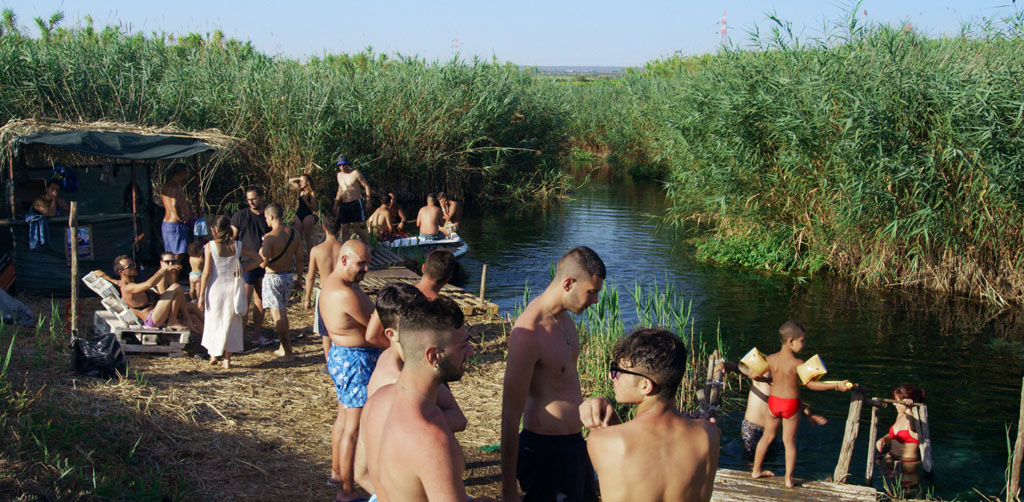 Tara
Filmforum, Germany / Italy 2022, 86 Min., ital. OV, ger. st
In addition to port facilities and factories, expressways and railway tracks, on the outskirts of the Apulian seaport of Taranto runs the Tara, a river known as both the "River of Happiness" and "Donkey River". Its water is said to have healing powers, but its magical idyll does not attract locals to its shore looking to cool off from the heat of the day. For the water is polluted. Local industry, and especially the huge steel plant, has contaminated the countryside with dioxin emissions and dust. The lives of the locals are closely intertwined with the plant. Many work there, or have worked there, and have fallen ill; others are trying to fight the environmental pollution. With luscious and precise visuals, the film looks at life on and in the river and encounters different people and stories – historical and spiritual legends that have arisen around the river, stories of past dreams of progress, and tales of social inequality at an ecologically and economically exploited site.
Director Volker Sattel, Francesca Bertin
Screenplay Volker Sattel
Producer Volker Sattel
Production Company
FuFiFilm
World Sales
Arsenal - Institut für Film und Videokunst e.V., Potsdamer Str. 2, 10785 Berlin, Mail: mail@arsenal-berlin.de, Web: www.arsenal-berlin.de
Distributor Cinemalovers, Königstraße 93, 90402 Nürnberg, Mail: kontakt@cinemalovers.de, Web: www.cinemalovers.de
Cast Jasmine Pisapia, Adriana Sellani, Cataldo Ranieri, Vincenzo Romito u. a.
Website
Trailer
Catalogue Page PDF-Download
Screenings
| | | | | | | |
| --- | --- | --- | --- | --- | --- | --- |
| 04.11.2022 | 22:15 | Stadthalle | 7 | | | |