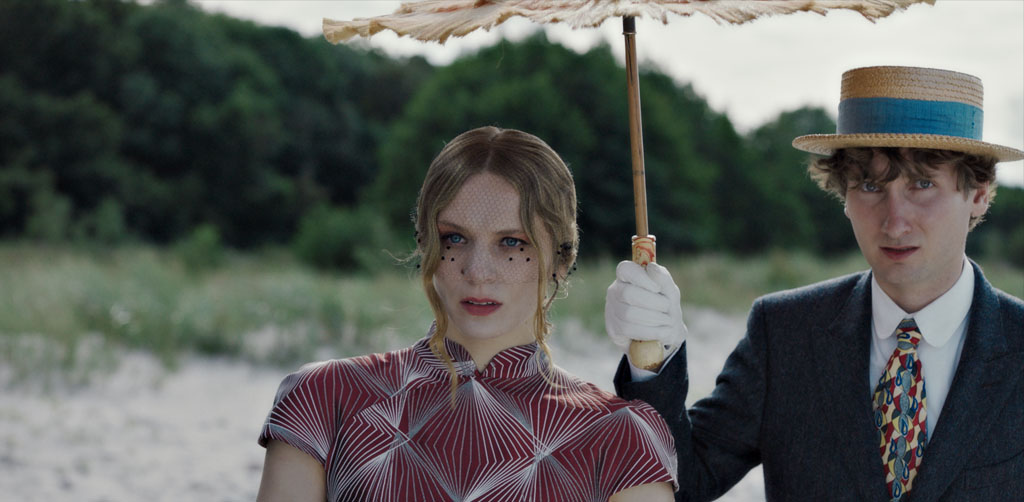 Blutsauger
Bloodsuckers
Filmforum, Germany 2020, 128 Min., ger. OV, engl. st
It is August, 1928 at a swanky resort on the Baltic Sea, the mysterious incidents are stacking up. Bite marks on the victims' necks point to a vampire, but the official explanation is "Chinese fleas". The young heiress to an industrial empire, Octavia Flambow-Jansen, is spending the summer here with her awkward servant, Jakob, who worships the eccentric millionaire. She, on the other hand, has eyes for an enigmatic aristocrat. He soon turns out to be a factory worker named Ljowushka, who dreams of a career as an actor and is only playing a baron. He was on the verge of a breakthrough playing Trotsky in Sergei Eisenstein's "October" before Stalin ordered that Trotsky be cut from the film. A summer romance develops and the group begins to shoot its own movie – a vampire film, of course. With a cinephile's touch, ironic artificiality, and some ideological discourse, Julian Radlmaier turns the Marxist metaphor of capitalists as bloodsuckers into a comedy set at the seaside.
Director Julian Radlmaier
Screenplay Julian Radlmaier
Producer Kirill Krasovski
Production Company faktura film GmbH, Thrasoltstraße 7/9, 10585 Berlin, Mail: berlin@fakturafilm.de, Web: www.fakturafilm.de
World Sales ARRI Media GmbHMünchen International, Türkenstraße 89, 80799 München, Mail: worldsales@arri.de, Web: www.arrimedia.de
Distributor Grandfilm, Muggenhofer Str. 132d, Bau 74, 90429 Nürnberg, Mail: verleih@grandfilm.de, Web: www.grandfilm.de
Cast Alexandre Koberidze (Ljowuschka), Lilith Stangenberg (Octavia), Alexander Herbst (Jakob), Corinna Harfouch (Tante Erkentrud), Andreas Döhler (Dr. Humburg), Daniel Hoesl (Bonim), Mareike Beykirch (Jewka)
catalogue page PDF-Download
Screenings
No screenings are available for this film.