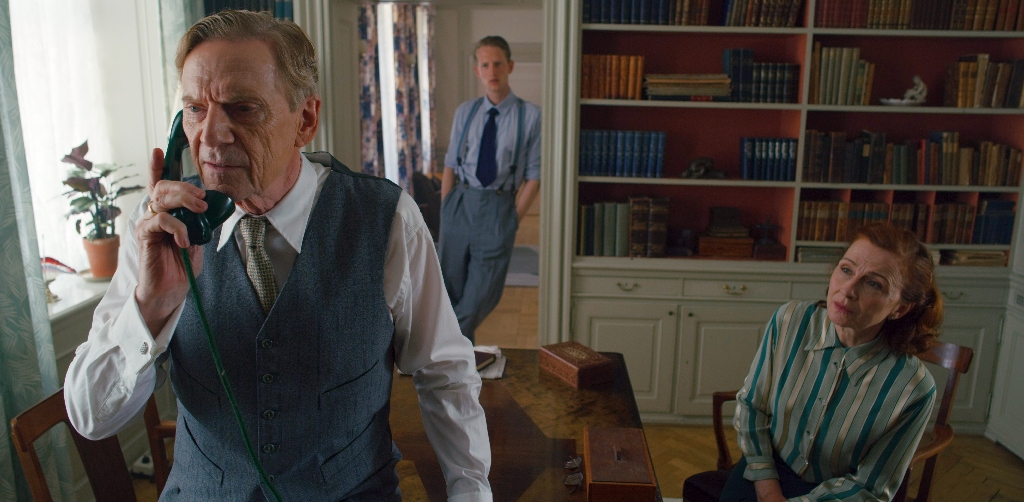 De forbandede år
Die verfluchten Jahre / Into the Darkness
Competition Narrative Films, Denmark 2020, 153 Min., OV, engl. st
On 9 April 1940, the day factory owner Karl Skov and his wife Eva are celebrating their silver wedding anniversary, the German army occupies Denmark. Although not subject to any overt repression, the consequences for this seven-member family are dire. In an echo of the Danish all-party government cooperation with the occupiers, Karl begins to produce for the German market. But that does not keep his life of privilege safe. The Germans soon use the fate of two Jewish refugees to make his impotence clear. His attempts to rescue his company and family are threatened with failure – while his eldest son joins the Free Corps Denmark to fight for Hitler's Germany on the Eastern Front … With parallel storylines and a cast of more than sixty, director Anders Refn mounts a weighty social tableau that touches on a national taboo: Danish collaboration with the Nazis.
Director Anders Refn
Screenplay Anders Refn, Flemming Quist Møller
Producer Lene Børglum
Production Company Space Rocket Nation, Kvæsthusgade 5 C, 1251 Kopenhagen, Web: www.spacerocketnation.com
World Sales Odin's Eye Entertainment and Animation, Level 2,65 The Grand Parade, NSW Australia 2216, Mail: info@odinseyeent.com, Web: www.odinseyeent.com
Cast Jesper Christensen (Karl), Bodil Jørgensen (Eva), Mads Reuther (Aksel), Gustav Dyekjær Giese (Michael), Sara Viktoria Bjerregaard Christensen (Helene), Lue Støvelbæk (Knud), Sylvester Byder (Valdemar), Pernille Højmark (Annelise)
Trailer
catalogue page PDF-Download
Screenings
No screenings are available for this film.