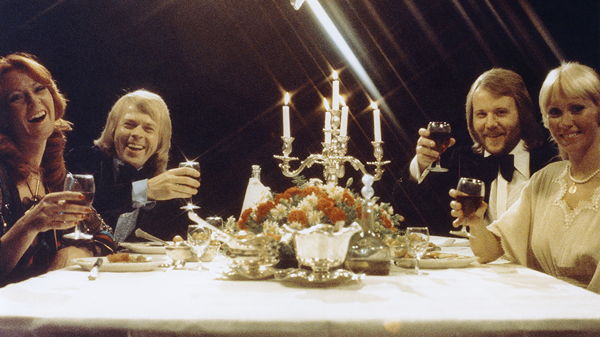 ABBA - The Movie © Swedish Film Institute
Press release, September 2, 2021
The 63rd Nordische Filmtage Lübeck (NFL) from November 3 to 7, 2021 will be a hybrid festival. "We are cautiously optimistic that we will be able to greet audiences live in the festival cinemas" said NFL managing director Susanne Kasimir, "and as a complement to that, we will offer as many films as possible on our streaming platform". The streaming will be managed by VoD company filmwerte Gmbh, based in Potsdam.
This year's NFL Retrospective, entitled Sing a Song!, will present a range of Nordic and Baltic musicals and pop music in film.
Retrospective curator Jörg Schöning commented, "I am especially pleased that the Baltic States are once again well represented in the Retrospective. Under the threat of being banned, Baltic filmmaking was committed to finding its own cinematic language distinct from the Soviet mainstream. At the same time, they were surprisingly playful in finding the irony in Western archetypes".
The entire NFL programme will be announced at a press conference on October 13. "Our audiences can look forward to a high-quality programme in all the festival sections", said new artistic director Thomas Hailer, "after a drought, filmmakers can hardly wait to meet audiences live in the cinemas again".
Retrospective – "Sing a Song!" Nordic and Baltic musicals and pop music in films
The 17 works in this year's Retrospective forge a musical bridge from jazz to rock to post-punk music. A wide range of cinematic genres is also on view. Narratives from the era of the Schlagerfilm (German pop music films of the 50s and 60s), up-beat musicals, and bio-pics that reconstruct the careers of legendary musicians. Meanwhile, documentaries convey the authentic "love, peace, and happiness" feel of previous festivals. In addition, the protest potential of pop music in northern and Eastern Europe is in full voice.
The cinematic revival tent houses a number of popular players, including Sweden's Siw Malmkvist in the romantic comedy Forelsket i København / Love in Copenhagen (Denmark, 1960) directed by Finn Henriksen. In Amir Chamdin's bio-pic Cornelis (Sweden, 2010), Malmkvist's feisty singing partner Cornelis Vreeswijk is played by former Turbonegro front man Hank von Hell.
In Saimaa-Ilmiö / The Saimaa Gesture (Finnland 1981), Aki and Mika Kaurismäki document three of their favourite bands on tour around Saimaa Lake, including musicians who would later join Leningrad Cowboys, as well as the Finnish melancholic Juice Leskinen, embodied by Teppo Airaksinen in the Retrospective bio-pic Juice-elokuva / The Ragged Life of Juice Leskinen (Finland, 2018).
ABBA – The Movie by Lasse Hallström (Sweden, 1977) uses live shows and interviews with the public to illustrate the rampant "Abbamania" that gripped audiences, and not just Down Under. And with the Lithuanian rock musical Velnio nuotaka / The Devil's Bride (1973), director Arūnas Žebriūnas delivered a downright diabolical answer to Andrew Lloyd Webbers Jesus Christ Superstar.
---
Press Contact
City of Lübeck
Nordische Filmtage Lübeck
Press and Publicity Department
Dagny Kleber
presse@nordische-filmtage.de