The 63rd Nordische Filmtage Lübeck (Nov. 3–7, 2021) will open on November 3 at 7pm with the German premiere of the Icelandic action-comedy "Cop Secret" ("Leynilögga", Iceland, 2021). In his feature debut, director Hannes Þór Halldórsson, who has a day job as goalie for the Icelandic national football team, manages an entertaining balancing act. Featuring two unorthodox heroes, he parodies the police thriller genre, while at the same time revelling in its action. "Cop Secret" will be distributed in Germany by MFA+ and is slated for theatrical release here in the summer of 2022.
Director Hannes Þór Halldórsson is expected in Lübeck for the premiere, alongside producer Lilja Ósk Snorradóttir (Pegasus Pictures), and actor and co-writer Sverrir Þór Sverrisson, known in Iceland as a comedian under the name "Sveppi", who has been a guest at the NFL many times.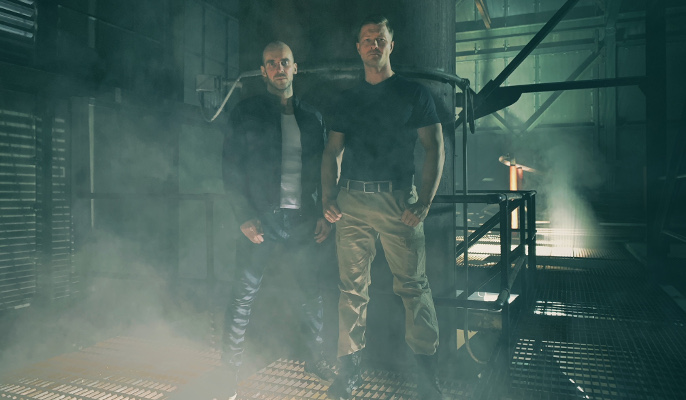 Plot synopsis
The tyres of his souped-up car squeal as the cop Bússi (Auðunn Blöndal) tears through the streets of Reykjavík. Bússi is the all-round super cop with a penchant for brutal methods – at home, he reaches for the bottle and avoids his girlfriend. As a series of bank robberies befalls the Icelandic capitol, Bússi gets a new partner – the completely buff and always well-dressed Hörður (Egill Einarsson). Opposites attract in every way in this somewhat different cop thriller. The macho behaviour of the two men, however, bounces right off the resolute female police chief Þorgerðurin (Steinunn Ólína Þorsteinsdóttir). Together, they hunt for the villain keeping the city at bay. The big showdown takes place at the same time as the women's football match between Iceland and England.
---
Cop Secret
Original title: Leynilögga
Iceland, 2021, 98 min.

Dir: Hannes Þór Halldórsson
Screenplay: Nína Petersen, Sverrir Þór Sverrisson, Hannes Þór Halldórsson
Director of photography: Elli Cassata
Producer: Lilja Ósk Snorradóttir
Production: Pegasus Pictures
Global sales: Alief LLC
Distribution Germany: MFA+

Cast: Auðunn Blöndal (Bússi), Egill Einarsson (Hörður), Sverrir Þór Sverrisson (Klemenz), Steinunn Ólína Þorsteinsdóttir (Þorgerður), Vivian Olafsdottir (Stefanía), Björn Hlynur Haraldsson (Rikki Ferrari)
---
Press Contact
City of Lübeck
Nordische Filmtage Lübeck
Press and Publicity Department
Dagny Kleber
presse@nordische-filmtage.de