<
Dogma lebt! | Close Look at Dogma 2002
| | |
| --- | --- |
| | |
Vier Jahre nach Thomas Vinterbergs "Das Fest " spielt "Dogme 95 " weiterhin eine wichtige Rolle bei den Nordischen Filmtagen Lübeck: Gleich zwei aktuelle Dogma-Produktionen werden gezeigt. Open Hearts, ein starkes Drama über die Macht des Zufalls, läuft im Spielfilm-Wettbewerb und bricht derzeit alle dänischen Kassenrekorde. Da mag Lars von Trier Regisseurin Susanne Bier noch so heftig den Bruch der Dogma-Regeln vorwerfen. Ihre starbesetzte Liebesgeschichte hat in der Publikumsgunst den bisherigen Dogma-Spitzenreiter "Italienisch für Anfänger " längst überholt.
Auf internationalen Festivals ausgezeichnet und von der heimischen Kritik zum "bisher reifsten Dogma-Film " erkoren wurde Ole Christian Madsens Kira – ein Frauenporträt, das unter die Haut geht.
Schließlich zeichnet The Purified als erste umfassende Dokumentation die Geschichte der derzeit einflussreichsten Bewegung im europäischen Kino nach: Regisseur Jesper Jargil konfrontiert die Dogma-Brüder der ersten Stunde mit ihren Idealen vom neuen Kino und ihren fertigen Filmen – um schließlich die Frage zu stellen, ob Dogma-Filme überhaupt machbar sind.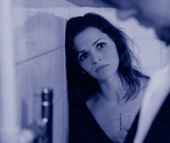 Four years after Thomas Vinterberg 's "The Celebration ", "Dogme 95 " is still playing an important role at the Nordic Film Days Lübeck:two current Dogma productions are being screened. Open Hearts, a striking drama about the power of chance showing in the feature-film programme, is currently breaking all Danish box office records. No matter that Lars von Trier is claiming that director Susanne Bier didn 't stick to the Dogma rules. Her starstudded love story has long since overtaken the previous Dogma leader "Italian for Beginners " in box office popularity.
Ole Christian Madsen 's Kira 's Reason has been decorated with prizes at international festivals and named "most mature Dogma film to date " by Danish critics – this portrait of a woman gets under your skin.
And finally, in The Purified, the first extensive documentation of this most influential European movement, director Jesper Jargil confronts the original Dogma brothers with their ideals for a new cinema and their films – and poses the question of whether it is possible to make Dogma films entirely by the rules.