<
Von der Bestsellerliste auf die Leinwand | From Book to Screen: Literary Adaptations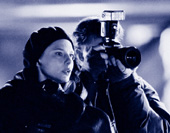 Literaturverfilmungen auf den Nordischen Filmtagen: Im diesjährigen Programm sind sie stark vertreten. Angefangen bei Ole Bornedals starbesetzter Großproduktion I Am Dina, dem Herbjørg Wassmos Weltbestseller zugrunde liegt.
Auch die in Schweden und Deutschland populäre Krimiautorin Liza Marklund lieferte mit "Olympisches Feuer" die Vorlage zu einem Lübecker Wettbewerbsbeitrag: Colin Nutleys Thriller Olympisches Feuer erzählt von den Ermittlungen über ein Bombenattentat auf das Stockholmer Olympiastadion.
Ein ungewöhnlicher Krimi ist auch Kristín Marja Baldursdóttirs Möwengelächter, der von merkwürdigen Vorkommnissen in einem isländischen Dorf und einer geheimnisvolle Frau namens Freya handelt. Er diente Ágúst Gudmundsson als Vorlage für den mit Spannung erwarteten Mövengelächter. Heino Ferch spielt darin eine Hauptrolle.
Die Erzählung "Natt til mørk morgen" von "Elling "-Schöpfer Ingvar Ambjørnsen liegt Libellen von Marius Holst zugrunde – ein modernes Kammerspiel über Liebe und Loyalität mit skandinavischer Starbesetzung.
Auch im Kinder-und Jugendprogramm greifen Spielfilme auf literarische Erfolge zurück: Der Eröffnungsfilm Elina mit Bibi Andersson basiert auf Kerstin Johansson i Backes erfolgreichem Jugendroman "Som om jag inte fanns " und Kleines Starkes Mädchen von Morten Køhlert auf dem Roman "Hungerbarnet " von Cecil Bødker. Harald Rosenløw Eegs in Norwegen populäres Romandebüt "Glasskår " von 1995 war die Vorlage zum auf der Berlinale preisgekrönten Einschnitte von Lars Berg.


A number of Scandinavian novels have found their way to the screen in this year 's programme. First on the list is Ole Bornedal 's starstudded major production of I am Dina, based on the worldwide bestseller by Herbjørg Wassmo.
A crime author known far beyond her native Sweden is Liza Marklund; she provided the story for Colin Nutley 's thriller Deadline with her novel "The Bomber "( Sprängaren ), in which an explosion at the Stockholm Olympic stadium leads an investigative reporter into a situation that endangers her life.
Ágúst Gudmundsson 's long-awaited feature film The Seagull 's Laughter is based on a most unusual tale of crime of that title by Kristín Marja Baldursdóttir. It tells of strange happenings in an Icelandic village when the mysterious Freya comes to town.
Ingvar Ambjørnsen, who gave us "Elling ", is also the author of the short story "Natt til mørk morgen ", the literary source for Marius Holst 's feature film Dragonflies, a modern chamber piece with a cast of stars.
A number of films in the children 's and youth film programme also take their stories from bestselling books. The opening film of that section, Elina – As if I Wasn 't There with Bibi Andersson, is based on Kerstin Johansson i Backe 's successful novel "Som om jag inte fanns " and Morton Køhlert 's Little Big Girl on the novel "Hungerbarnet " by Cecil Bødker. Finally, Harald Rosenløw Eeg 's popular Norwegian debut novel "Glasskår " provided the basis for Scars, Lars Berg 's award-winning entry at this year 's Berlinale.