<
Eigenwillig und Mysteriös | Wilful and Mysterious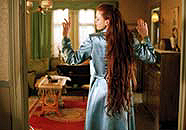 Starke, unabhängige Frauen finden wir in vielen Sparten der diesjährigen Filmtage – Frauen wie die Titelfigur von "I am Dina", gespielt von Maria Bonnevie, oder die wunderschöne, mythisch anmutende Freya, verkörpert von Margrét Vilhjálmsdóttir, die in Ágúst Gudmundssons "Möwengelächter" allen Männern den Kopf verdreht, aber ihre eigenen Ziele immer klar im Auge behält. Dieser erfolgreichste isländische Film des Jahres wurde mit insgesamt sechs nationalen Filmpreisen (darunter Bester Film, Beste Regie, Beste Schauspielerin) ausgezeichnet. In "Good Hands", den Peeter Simm in estnisch-lettischer Koproduktion drehte, betört eine verführerische junge Diebin in einer verschlafenen estnischen Kleinstadt die Männer verschiedener Generationen, bevor sie sich wieder nach Lettland absetzt. In "The Lease", dem Spielfilmdebüt des jungen Litauers Kristijonas Vildziunas, begegnen wir einer 40jährigen Frau, die nach einer traumatischen Ehe eine neue Liebe findet und sich mit Unterstützung ihrer Freundin grausam rächt, als sie abermals betrogen wird.
Durch einen Unfall kreuzen sich in Susanne Biers "Open Hearts" aus Dänemark die Lebenswege zweier Frauen auf unerwartete Weise. Schließlich teilen sie den gleichen Mann. In "Libellen" von Marius Holst aus Norwegen steht eine junge Frau (Maria Bonnevie) zwischen zwei Männern und ihrer Vergangenheit. "Der Mann ohne Vergangenheit" von Aki Kaurismäki verdankt seinen neuen Lebensmut dem Einsatz einer Frau: Kati Outinen wurde für ihre Rolle als wortkarge aber tatkräftige Heilsarmee-Offizierin in Cannes als Beste Schauspielerin ausgezeichnet. Eine Reise ins Leben unternehmen auch Pete und Jusa, zwei krebskranke finnische Jungen. Ihr "One-way Ticket to Mombasa" führt sie in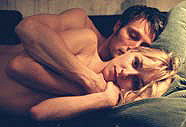 Hannu Tuomainens Film allerdings nach Lappland, wo sie einer eigenwilligen jungen Frau begegnen...
Frauen sind aber keinesfalls das einzige Thema in diesem besonders fruchtbaren Filmjahr. Viele Filme beschäftigen sich auch mit dem Verhältnis zwischen Vätern und ihren Kindern.
Im lettischen Spielfilm "Leaving by the Way" von Viesturs Kairiss wartet der neunjährige Dauka sehnsüchtig – und vergeblich – auf die Rückkehr seines Vaters: die Mutter schafft es nicht, dem Jungen zu erzählen, dass sein Vater längst gestorben ist. In Fridrik Thor Fridrikssons "Falken" ist es der Gedanke, vielleicht die eigene Tochter wiedergefunden zu haben, der dem verzweifelten Ex-Häftling Simon wieder Hoffnung gibt und die beiden auf einer verrückten Odyssee nach Deutschland einander näher bringt. (Hier erleben wir wieder Islands Shooting Star Margrét Vilhjálmsdóttir, die an der Seite des bekannten amerikanischen Darstellers Keith Carradine spielt). Eine ebenso verrückte Flucht und schwierige Annäherung erleben die siebenjährige Lisa und ihr Vater, der sie in seiner Verzweiflung entführt, in dem norwegischen Spielfilm "Hold My Heart" von Trygve Allister Diesen. Die norwegische Amanda als Bester Film des Jahres ging soeben an Even Benestads Porträt seines Vaters – Arzt und Transvestit – "All About My Father".
Zu welchen Haar sträubenden Aktionen und Verrücktheiten eine reine Männerclique fähig ist, zeigt uns schließlich Lasse Spang Olsen in seiner rabenschwarzen Krimikomödie "Old Men in New Cars" der Fortsetzung zu seiner dänischen Aktionkomödie "In China essen sie Hunde ".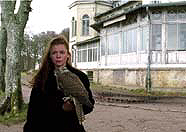 Strong,independent women are found in many sections of this year's Film Days –women like the eponymous heroine of "I am Dina", portrayed by Maria Bonnevie, or the beautiful, strangely mythical Freya, played by Margrét Vilhjálmsdóttir, who in Ágúst Gudmundsson's "The Seagull 's Laughter" bewitches all the men, but always knows exactly what she wants. This most successful Icelandic film of the year was awarded a total of six national prizes (including Best Film, Best Direction, Best Actress). In "Good Hands", which Peeter Simm directed as an Estonian-Latvian co-production, an attractive and seductive young thief captures the imagination of the men, both young and old, in a sleepy little Estonian town before making her way back to Latvia. In "The Lease", the first feature film of the young Latvian director Kristijonas Vildziunas, we meet with a 40-year-old woman who finds new love following a traumatic marriage and then when she is cheated on again takes violent revenge with the help of a woman friend.
In Susanne Bier's "Open Hearts" from Denmark, the paths of two women cross unexpectedly after a sudden accident. As it turns out, they share the same man. In Marius Holst's "Dragonflies" (Norway) a young woman (Maria Bonnevie) stands between two men and their past. Aki Kaurismäki's "Man Without a Past" regains the courage to live with the help of a woman: for her role as the laconic but determined Salvation Army officer, Kati Outinen was named Best Actress in Cannes. A journey into life is undertaken by Pete and Jusa, two young Finnish boys suffering from cancer in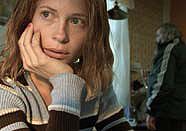 Hannu Tuomainen's film; their "One- way Ticket to Mombasa" takes them to Lapland, however, where they happen to run into an independent young woman …
But women are by no means the only topic that has presented itself in this particularly fertile film year. Many movies deal with the relationship between fathers and their children.
In the Latvian feature film "Leaving by the Way" by Viesturs Kairiss, nine-year-old Dauka waits long- ingly –and in vain –for the return of his father from sea: his mother is unable to tell him that the father is long since dead. In Fridrik Thor Fridriksson's "Falcons", it is the thought that he might have rediscovered his own daughter that gives hope to the despairing excon Simon and brings the two of them closer as they head off on a mad odyssey to Germany. (Here we meet with Iceland's Shooting Star Margrét Vilhjálmsdóttir again, who plays opposite the wellknown American actor Keith Carradine). In Trygve Allister Diesen's Norwegian film "Hold My Heart", seven-year-old Lisa and her father set off on a no less crazy escapade and difficult reconciliation when he kidnaps her in desperation after being denied visiting rights. Even Benestad 's documentary portrait of his father – a doctor and transvestite – has just won the Norwegian Amanda as Best Film of the year: "All About My Father".
And it is finally Lasse Spang Olsen in his black comedy "Old Men in New Cars" – the sequel to his Danish action comedy "In China They Eat Dogs" – who shows us the outrageous actions and madness that a group of men are capable of in order to get a father and son back together.