<
Vor und hinter der Kamera: Starke Frauen – Große Damen |
Before and Behind the Camera: Strong Women – Leading Ladies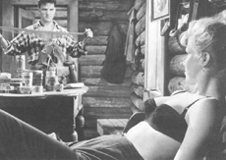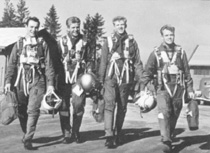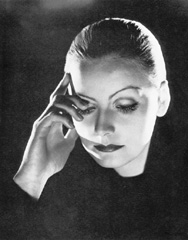 Sie prägen das Gesicht des Kinos: große Schauspielerinnen aus dem Norden wie Greta Garbo oder Ingrid Bergman. Aber wie in keiner anderen Region der Welt haben die Frauen im Norden die Chance ergriffen, den Film auch "hinter " der Kamera zu gestalten. Liv Ullmann, die Ehrenvorsitzende der Nordischen Filmtage Lübeck, die vor einigen Jahren vom Schauspiel-ins Regiefach wechselte und darin ebensolche Erfolge feiern konnte, ist ein berühmtes Beispiel. Sie hatte ihre Wegbereiterinnen: Edith Carlmar war 1949 mit "Døden er et kjærtegn " (Der Tod hat Dich lieb) die erste Frau, die in Norwegen Regie bei einem Spielfilm führte. In den folgenden Jahren drehte sie zehn populäre Spielfilme, einige Melodramen und leichte Komödien. 1949 hatte in Dänemark "Palle alene i verden " (Palle, allein auf der Welt) Premiere, die erste Allein-Regie von Astrid Henning-Jensen, die im Laufe ihrer langen und erfolgreichen Karriere viele internationale Auszeichnungen, darunter Festivalpreise in Cannes, Venedig und Berlin sowie eine Oscar-Nominierung erhielt. In Schweden wagte Mai Zetterling nach einer erfolgreichen Schauspielkarriere daheim und in Großbritannien den Sprung ins Regiefach. Zunächst mit Dokumentarfilmen, dann mit Spielfilmen wie "Älskande par " (Liebende Paare, 1964), "Flickorna " (Die Mädchen, 1968) oder Amorosa " (1986) sorgte sie für internationales Aufsehen und manche Kontroversen. Diese Regisseurinnen sind vielleicht Ausnahmeerscheinungen, aber keine Ausnahmen. Nirgendwo sind so viele Frauen im Regiefach erfolgreich wie im Norden Europas.
Die Nordischen Filmtage Lübeck widmen ihnen eine Retrospektive. Eine Hommage ist drei ganz großen Künstlerinnen vorbehalten: Bibi Andersson, Liv Ullmann und Ghita Nørby, die als Schauspielerinnen und Musen Ingmar Bermans begannen, später eigenständige künstlerische und politische Wege verfolgten und heute zu den berühmtesten Film- und Theaterschauspielerinnen Skandinaviens gehören. In dem Film "Schwestern des Lebens ", den Wilfried Hauke für Arte, NDR und das schwedische Fernsehen SVT dreht, ziehen die drei, die eine jahrelange enge Freundschaft verbindet, miteinander eine künstlerische und persönliche Bilanz.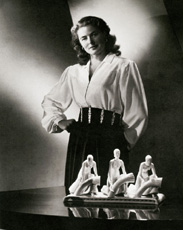 They have moulded the face of cinema: great actresses from the North like Greta Garbo or Ingrid Bergman. But like nowhere else in the world women from the North have seized the opportunity to shape the face of cinema from "behind " the camera, as well. A very famous example is Liv Ullmann, the Honorary President of the Nordic Film Days Lübeck, who not too many years ago moved from acting to directing and was able to celebrate further international successes in that field. Other women paved the way: Edith Carlmar was the first woman to direct a feature film in Norway, making "Døden er et kjærtegn " (Death is a Caress) in 1949. In the following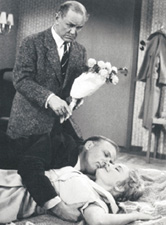 years she make 10 popular feature films, several melodramas and many light comedies. "Palle alene i verden " (Palle Alone in the World) premiered in 1949, the first feature film solely directed by Astrid Henning-Jensen, who received many international awards in the course of her long career, including festival prizes in Cannes, Venice and Berlin as well as an Oscar nomination. Mai Zetterling, after a successful acting career in Sweden and Great Britain, boldly moved on to directing. After starting with documentaries, she caused an international sensation and no few controversies with feature films like "Älskande par " (Loving Couples,1964), "Flickorna " (The Girls,1968) or "Amorosa " (1986).These women directors might be exceptional, but they are no exceptions. Nowhere are women more successfully established as directors than in the North. The Nordic Film Days devotes the Retrospective to them.
A special Tribute is being paid to three great artists, Bibi Andersson, Liv Ullmann and Ghita Nørby, who began as Ingmar Bergman 's actresses and muses and later pursued independent artistic and political paths. They are now considered the most famous stage and movie actresses in Scandinavia.In the portrait "Schwestern des Lebens " (Sisters of Life), which Wilfried Hauke is making for Arte, NDR and Swedish Television SVT, the three woman, who have been close friends for many years, take stock of their artistic and personal lives.